Is your head underwater?
(Photograph "Couple" by Charlotte Cleason. Used under a Creative Commons Attribution 2.0 Generic License).
I've just done my second guest post over at Rose Pedal Vegan Weddings. If you haven't checked out that site, it's a great resource for vegans getting married all over, with directories for finding vegan-wedding-related services and items, as well as people sharing their own vegan wedding experiences.
My first post focused on talking to your family about your desire to have a vegan wedding (as opposed to an omnivorous one), and my second is about talking to your partner through the whole wedding planning process. I hope to do some other posts there soon!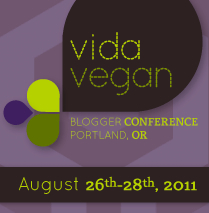 13 Days to Vida Vegan Con!