This is the most fun part- drawing the winner of the The Happy Herbivore Cookbook: Over 175 Delicious Fat-Free and Low-Fat Vegan Recipes!
There were a total of 24 entries during the allotted time period (comment #25 was discarded, as it was made after 5PM EDT on 4/21/11. Fair is fair. Maybe next time, Mary L).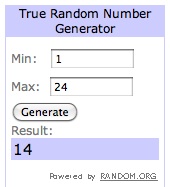 Commenter #14, Anna! She said: "Oooo I would love to win, I've been eyeing this cookbook for some time!"
Well Anna, now its yours. I will email you for your address!
That was definitely fun. Any other publishers want to give me something to give away? 🙂