First of all, thank you to everyone who commented on yesterday's post, both here and on Facebook. There was an event today at work (actually, several) that started with lunchtime. I had decided to handle it by eating my lunch in my office about 10-15 minutes before the gathering. I heated up my piece of vegan lasagna, but then got distracted with another issue. I ended up just bringing it with me to the cafeteria, and there was so much chaos, no one noticed. I'm not sure how that would work out in some of the other situations, but it worked for today!
Vegan boyfriend got himself half of a farm share this year, and has had some interesting things come his way. The first few weeks, he was a getting a lot of greens, such as mustard greens, arugula and mizuna. We tried sautéing up some mustard greens and arugula to go with dinner one night. We sautéed a little onion and garlic in a little broth first, then added the greens. They were finished off with a little Bragg's.
Jerk tofu and brown rice over mustard greens and arugula. Excuse the low-lighted iPhone pic!
It wasn't very good. I don't think it was the arugula so much as the mustard greens. As the name of my blog indicates, I am picky… but vegan boyfriend isn't, and he didn't like them either. So, another question for you: how do you make your mustard greens? 🙂
And I'm getting so excited because…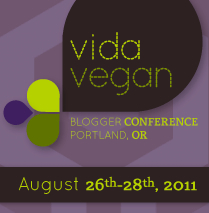 16 Days to Vida Vegan Con!