We have a winner for My Sweet Vegan!
When I heard that Siri could automatically generate random numbers, I was so set to use it for this giveaway! Turns out you can only get a random number between 1 and 1000, which didn't quite work. So bummed! So I went all old-fashioned and used random.org.
There seemed to be a little confusion about how to enter, but if you left a comment here, told me you were following me elsewhere in the same comment, or told me elsewhere that you were following me, you got entered, in order. Which makes tonight's winner…
Jill K, #7 (who might look like #6, but the commenter above her also said he was following me on Twitter, and since I wasn't clear, I wanted to be as fair as possible).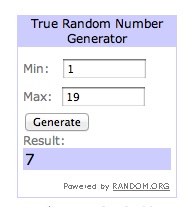 Congrats, Jill!