On August 24th, I'll be heading to Portland, OR for the Vida Vegan Blogging Conference (Aug 26-28th). I am going to the vegan holy land! In honor of this trip, I'll be blogging everyday from now until the conference is over. That's a challenge for me, for sure. 😉
I had originally made plans today to do some shopping around Westchester, but got a text from an old friend in New Haven this morning. I ended up going there for lunch and a little shopping instead. In the Westchester area, I had planned to go to Kalliste, a vegan soap shop in Scarsdale, NY. Since I didn't get there today, I'll get there another day in the next couple of weeks. I promise a whole post on that when I go!
In New Haven, I went to my favorite place in New Haven to go with Omni friends- Georgie's Diner. I got my usual:
An old picture, but I always get the same!
After lunch, my friend, her daughter and I headed over to Ikea for a little shopping. After I dropped them off, I went shopping at my old favorite natural foods store, Edge of the Woods. They had a whole bunch of really awesome looking vegan cupcakes, too! It was nice to be back in the old stomping grounds. 🙂 And did you know there's now a Chipotle in Milford? I was always hoping for one when I was living in New Haven!
I've finished off my night by watching some I Love Lucy (Happy 100th Birthday, Lucy!) and putting together a lasagna for tomorrow. Unfortunately, my noodles really stuck together, but I managed to make some semblance of a lasagna! Oh, and all this was while wearing my Lucille Ball T-Shirt. I'm no fair weather fan- I'm hard core. 🙂 I've read pretty much every book there is to read on Lucille Ball. Plus I own the whole I Love Lucy series on DVD! It's comforting to know that I can watch it any time I want. 😉
Hopefully tomorrow will be full of adventures, too. Even if I don't leave my apartment!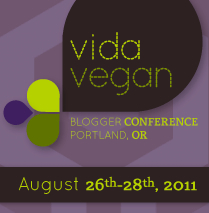 20 Days to Vida Vegan Con!