Earlier this week I saw VegNews mentioning a new vegan funding campaign for Vegan Bodega. I think that this sounds like such an awesome project- and makes me so happy because I only live a short train ride from Manhattan!
I don't know that it would really be any cheaper for me to take the train in to go shopping versus ordering items online (so don't worry, online vegan stores), but it would be really nice to be able to go into a store and just browse around, seeing all the different products out there available through a store front. If you're in a position to donate, please do!
So what else is happening in vegan news this week?
And on my blog…
Wow- by this time next week, VVC will have begun!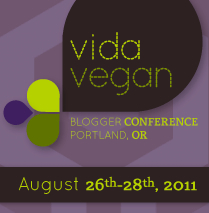 7 Days to Vida Vegan Con!