Have you ever had what you thought was a really good idea for a recipe, but it just didn't work out to your expectations? Tonight's dinner was one of those.
Yesterday vegan boyfriend sent me home with cubanelle peppers, red onions, and new potatoes from his CSA share. I got stuck in traffic driving home, and had a long time to smell those peppers and onions. So I came up with a way to use them: sautéed with a bit of garlic and seitan. With potatoes thrown in. I wasn't sure what I would do for a sauce, but I was leaning towards something tomato-ey.
My well-imagined, but not well thought out dinner.
I had some pesto in the freezer, so I threw a cube of that in as well. I also had tomato paste in the fridge, so I thought that would work. And it did… but it was still under-seasoned, and I'm not sure what else I would have done (other than a lot more salt). I served it with ketchup, and it was perfectly fine. It just didn't live up to my expectations. Maybe it would have been better with a fancy ketchup!
I would definitely try this again, but I think I might make a separate tomato sauce to go along with it. If that's well seasoned, everything else will be, too.
Many of my friends have commented to me that everything I post looks so good… and that it must be nice to be able to cook like that. Well, I mess up sometimes too! How about you?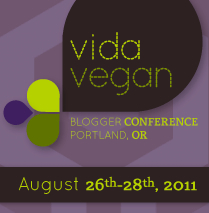 11 Days to Vida Vegan Con!