My cookbook collection has grown over the years!  The picture below shows just some of them; I have them stuffed in piles all over my living room and kitchen, and these days I often buy the Kindle version, and I'm not opposed to checking out cookbooks from the library as well (praise libraries!).
To be fair, not all the cookbooks here are vegan.  Some were gifts, some were purchased a very long time ago, and some just have some really interesting other recipes that I felt I could learn from.
This page is still under construction, pardon the mess.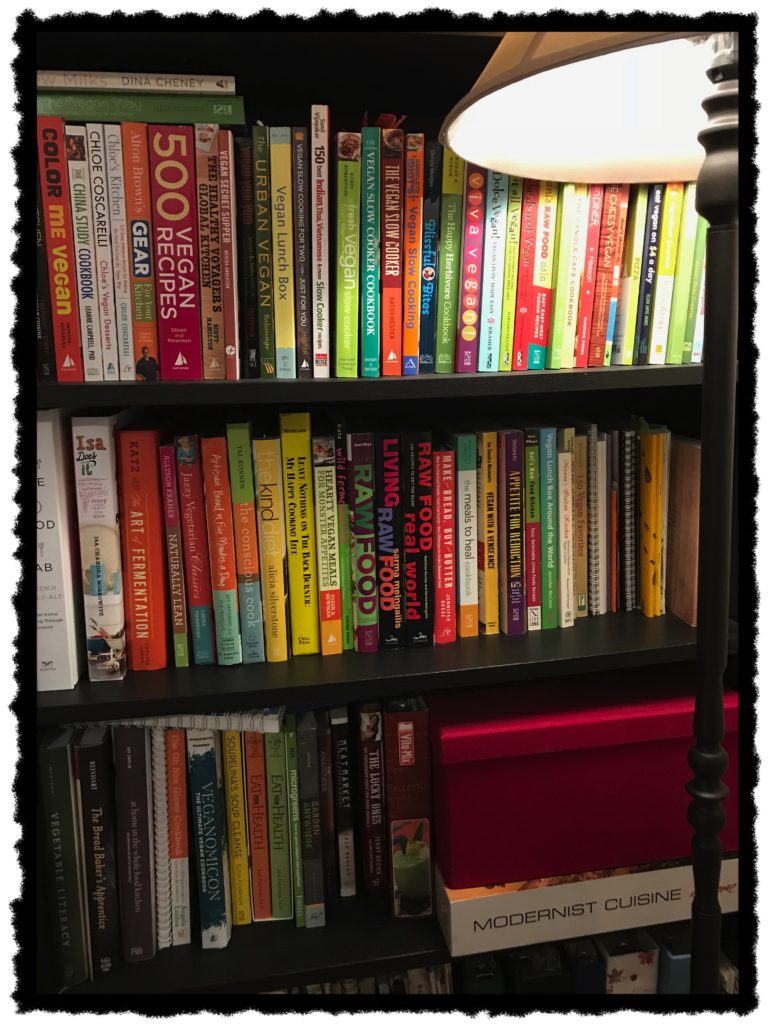 ---
Some of my collection includes:
---
Appetite for Reduction: 125 Fast and Filling Low-Fat Vegan Recipes
is a new one to me, but I've tried a couple of recipes and am very happy so far! Check out Roasted Beets and Sautéed Beet greens, and Chickpea Piccata!
---
Veganomicon: The Ultimate Vegan Cookbook
. It there's only one cookbook you're going to try, make it be this one! Just a few of the things I've made from here: Lemon-Yogurt Pound Cake, Chocolate-Hazelnut Cookies, and Baby Bok Choy with Crispy Shallots.
---
If there's only one more cookbook you can buy, make it Vegan Brunch: Homestyle Recipes Worth Waking Up For–From Asparagus Omelets to Pumpkin Pancakes
! I have both the print edition and the Kindle
edition, since I'm often called upon to make pancakes when I'm away from home. Go figure. 🙂 A few things I've made from here: bagels, tofu omelette, Caramelized Onion Quiche with Cherry Sage Sausages, Scrambled Tempeh, Swiss Chard Frittata, and English Muffins.
---
Vegan with a Vengeance : Over 150 Delicious, Cheap, Animal-Free Recipes That Rock
was one of the early vegan cookbooks I bought, and quickly became one of my favorites. I don't cook from it often anymore, but it's where my obsession with seitan stroganoff started.
---
I actually made 8 or 9 recipes from Vegan Cookies Invade Your Cookie Jar: 100 Dairy-Free Recipes for Everyone's Favorite Treats
for Christmas 2009, but I apparently didn't take any pictures. I can assure you, they were tasty. And I did take a picture of the Mexican Chocolate Snickerdoodles I made earlier. 🙂 Oh, and don't worry. I gave away most of those cookies I made that Christmas!
---
I don't make cupcakes that often anymore, but if you like to make them, you need Vegan Cupcakes Take Over the World: 75 Dairy-Free Recipes for Cupcakes that Rule
. Who doesn't like a chocolate cupcake every now and then?
---
More to come- there's a lot of books on that shelf!