I had the oppertunity to interview Lindsay Nixon, author of The Happy Herbivore Cookbook: Over 175 Delicious Fat-Free and Low-Fat Vegan Recipes. She was gracious enough to answer a few questions and share one of her recipes from her cookbook. It's a great book, and she has more in the works!
Biography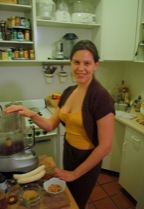 Lindsay S. Nixon
Lindsay S. Nixon is a rising star in the culinary world, praised for her ability to use everyday ingredients to create healthy, low fat recipes that taste just as delicious as they are nutritious. Lindsay's recipes have been featured in Vegetarian Times, Women's Health Magazine and on The Huffington Post. Lindsay is also a consulting chef at La Samanna, a luxury resort and four-star restaurant in the French West Indies. You can learn more about Lindsay and sample some of her recipes at happyherbivore.com
Q & A
PV: For anyone not familiar with your work/blog, how long have you been a vegan, and what made you decide to go vegan?
HH: Since Dec 2006; It was initially an experiment. I was vegetarian at
the time but had heard that going vegan had all these amazing benefits
like more energy, clear skin, weight-loss so I gave it a go — and
wow. It was all true. I saw so many positive changes that I kept with
it, and then I learned more about the horrors of the dairy, egg and
meat industries, and the environmental impact of consuming animal
products, and the health risks they caused that I was all in, for
life.
PV: Do you have any advice for people who are already vegan, and want to improve their eating habits?
HH: Remember to keep veg in "vegan" (or vegetarian). Even if you only have
time for a sandwich, or pasta, or even a boca burger, add a side of
vegetables. Every small, but healthier choice, really adds up.
PV: I've read that you trained to be a lawyer, but now you make your living as a vegan cookbook and blog author. What made you decide to do it?
HH: I'm technically still a lawyer. I'm licensed in California, and I
passed the bar in New York, but haven't paid the license fee there.
Cooking and Happy Herbivore had been my hobby during law school, and
my early years as an attorney. I wasn't happy as an attorney, but I
was happy in the kitchen so I decided money wasn't everything and to
live my passion. Life is too short to be unhappy.
PV: Are there any foods that you were afraid to try when you first went vegan?
HH: I was really intimidated by tofu. I didn't eat it when I was a
vegetarian, and the first few years I was vegan. I don't know what
made me change my tune but I'm sorry I was ever scared of it — its so
universal.
PV: I've read your Black Bean Brownie recipe, and I'm very intrigued, but I'm almost a little afraid to try it, because it sounds so different. Any advice?
HH: It's the most popular recipe on my website, for sure. It's been all
over the blog world and twitter. I say try it and have a positive
attitude about it. Attitude is everything.
PV: I've also read that you spent quite a bit of time living in NYC. I'm new to the NYC suburbs- do you have any recommendations for places to try?
HH: I'm from NYC, but am living abroad at the moment–but I can't wait to
go home. My favorite place in NYC is Red Bamboo, followed by Candle Cafe, Angelica's Kitchen and Lula's (ice cream shop).
From Lindsay:
The Happy Herbivore's Quick Queso
(makes 1 cup) – It's okay to go at this sauce with a spoon. I won't judge.
1 cup non-dairy milk (such as fat-free soymilk)
1/3 cup nutritional yeast
2 tbsp whole wheat flour
1 tsp granulated onion powder
1/2 tsp granulated garlic powder
1/2 tsp ground cumin
1/4 tsp paprika
1/4 tsp chili powder or cayenne (optional)
1/4 tsp salt, or to taste
Whisk all ingredients together in a sauce pan. Bring to a boil over medium heat, stirring often until thick. Serve immediately.
Note: Gluten-free flours or blends may be substituted, such as chickpea flour. Also, add a 1 10-ounce can of Rotel tomatoes with green chilies for a Mexican Queso twist.
I'm definitely going to try this one soon!